Jerome's Furniture Order Tracking and Order Status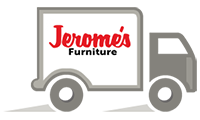 To see details about up-to-the-minute information on today's deliveries or service calls, pending and past purchases, special orders, and backorders.
Simply enter your sales order number and zip code below.
We are unable to find your order. Please verify your information and try again.
If you recently placed an order, we are processing it now. Please allow one business day before checking on your order status.
There was an error retrieving your results.
Active orders
You have active orders.
| Order ID | Stop Type | Purchase Date | Truck Info | Current Estimate |
| --- | --- | --- | --- | --- |
Open orders
You have open orders.
| Purchase Date | Order ID | Description | Price | Link |
| --- | --- | --- | --- | --- |
Closed orders
| Purchase Date | Order ID | Description | Price | Link |
| --- | --- | --- | --- | --- |